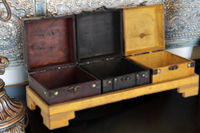 If you are looking for a way to put a great trunk to use, be it old or new, there is no shortage of great trunk-transformation ideas to be discovered. Whether you are a simple do-it-yourselfer or someone with the resources to hire a professional, you can make a trunk into something spectacular. From pet beds to fantastic seating for humans, trunks can serve a variety of novel purposes, often without the investment of a great deal of time, money or effort. Here are just a few ideas to get you thinking about how you might wish to use your favorite trunk.
1.Add a great cushion to the top, and maybe a coat of paint on the outside, to a large, sturdy trunk to transform it into versatile seating.
2.Fit a false bottom about six inches from the top of an open trunk and place a pillow on top of the false bottom to make a cozy elevated bed for your favorite furry creature. Then, store all of your animal friend's toys and supplies under the bed and out of sight.
3.Give a small trunk a unique look by adding a new hand-painted or jeweled finish, and then use it to store make-up, costume jewelry or other small items.
4.Put a large trunk in front of the couch or a matching pair on either side to create a coffee table or end tables with fantastic out-of-sight storage possibilities.
5.Dress up your document storage by fitting a smaller trunk with file rails, to keep your paperwork handy and organized and your workspace attractive.
6.Use a small trunk as an indoor toolbox that you won't be ashamed to have in full view.
7.Use a trunk as a window seat, and take advantage of the extra storage space it creates.
Whatever your storage and decorative needs may be, with the great selection available at Quickway Imports wholesale , you will find the perfect resources to pull your look together.