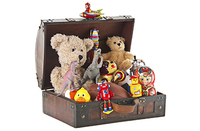 Who doesn't love a good play? There are few things as wonderful as being taken out of this moment and into another by the magic of excellent acting and evocative props. Fortunately, you don't have to be an expert actor to appreciate or even practice the art: you can bring the joy of a play home.

Do you have children in your home? If so, chances are they love to play dress-up, and they may even enjoy putting on full-scale amateur productions. If so, why not offer the perfect mix of whimsy and practicality in the form of a dress-up trunk. Take that old tux or prom dress and throw it in the trunk along with other dress-up treasures. The trunk itself can serve as a prop for the "production" and, after the show, can transform into handy storage for the costumes in your favorite young thespian's impromptu theater.
You don't have to have or to be a child to appreciate the delight of acting, especially when it is combined with laughter. Choose a trunk that works in your space and fill it with props and fabrics to create a classic charades chest for your next gathering. You don't even need to have an official game set, simply turn a stack of index cards into names of places, people or events, and even ask your guests to chip in. Then, sit back and enjoy the show, and store the supplies in your trunk until the next big event.
Shakespeare reminds us that "All the world's a stage" and we are the players. So, perhaps it's time to get playing. When you are done, your trunk will allow you to tuck the fun away until the next time you have the urge to bring out your inner actor.