Published by E. Rose on 19th Sep 2019
Whether you work from home full time or your workload trickles in to your humble abode, a home office is an ideal setting. Think you don't have enough space? Think again! Savvy space savers have come up with amazing ways to squeeze in everything you need for a home office, even in the smallest of spaces.
Choosing a Space
Chances are you've got at least one area in your home that's left unused. It could be along your living room wall, a recess in the hallway, the attic, or even an unused closet. Try to find a place that'll give you the needed privacy without feeling claustrophobic.
Home Office Desks
There's no need for a big clunky desk when all the desktop holds is a laptop and a mug. Aim for a low profile, unobtrusive look.
Our Basicwise Wall Mounted Fold-out Desk presents a novel solution. The desk features a just right amount of surface space, along with several spacious storage shelves. When not in use, the desk folds in on itself to present a sleek, cabinet-like exterior tucked against the wall.
The Basicwise Wall Mounted Office Desk is ideal for those seeking a standing desk, known to present a healthier alternative to sitting hunched over your computer. When you do want to sit, borrow a bar stool from your kitchen – it's the perfect height. Being that the desk can be mounted at any position, it can also be used as a regular sitting desk.
Compact and Comfortable Chairs
Traditional office chairs tend to be somewhat bulky and take up lots of space. A swivel stool, such as the Bold Tones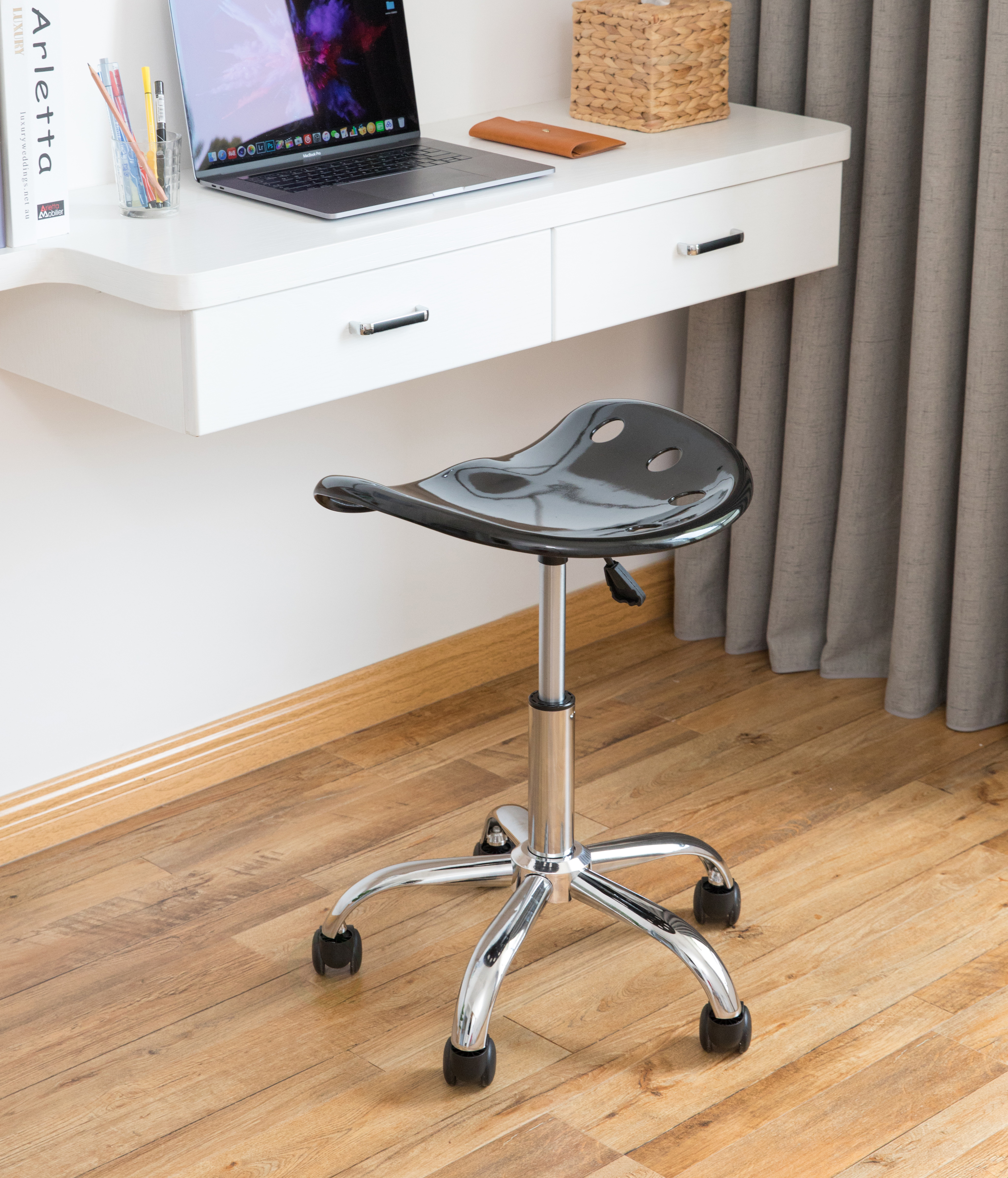 Tractor Seat Swivel Chair, is a great space saver. Designed for office use, the tractor seat is comfortable for all day use, and its compact design makes it easy to maneuver around tight spaces.
For a more classic style office chair check out the Bold Tones swivel Chair collections, available in leather or mesh finish. Sleek and modern, they're perfect for home office use.
Home Office Storage
If your workload calls for use of a printer or scanner, a small filing cabinet will do double duty as both file storage and printer stand. Choose one with casters if you'll want to move it around often.
For more book and file storage, a compact bookcase offers lots of storage space while keeping the room organized and tidy. In contrast to a classic office filing cabinet, a bookcase helps maintain the homey look you want for your home, and minimizes the commercial office look.